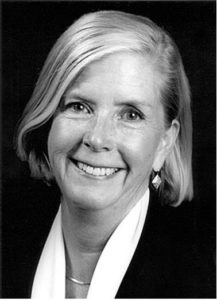 Martha Meade Hulings Kaemmer, daughter of Mary Elizabeth "Betty" Andersen Hulings and A.D. "Bill" Hulings, died peacefully on Maundy Thursday, March 29, 2018, in Florida, surrounded by her loving family. She was 73.
Martha grew up in Bayport, Minnesota, on "the Point" on the banks of the St. Croix River where she acquired her love of nature, water, quiet listening, and connecting to place. As a child she spent summers with her family on Sand Island, one of the many Apostle Islands on the south shore of Lake Superior, a practice she continued with her own children and grandchildren. Martha also loved the Mississippi near her adult home in Saint Paul, and the waters off of Captiva Island in Florida where she and her husband Art spent part of every winter.
Because of the many guests her parents hosted at their summer retreat on Sand Island, Martha and her sister Mary mastered the skills of cooking and gracious entertaining. These skills, and Martha's love of bringing people together over good food, led to her becoming co-founder and ultimately owner of Cooks of Crocus Hill, a gourmet cooking school and kitchen shop on Grand Avenue in Saint Paul. She led Cooks as a successful entrepreneur for over 35 years, helping to introduce the Twin Cities to the delights of fine food. As her pastor observed, "Martha's life was lived in a way that prepared a table for others." To her family, her quietly faithful habit of bringing them together to break bread reflected not only her great love for those around her, but her constant thoughtfulness for those who went without.
Music and singing were an integral part of Martha's life, and she and Art sang in their church choir, attended concerts and supported many musicians and ensembles in a wide range of creative endeavors, including groups such as Vocalessence and the St. Paul Chamber Orchestra. Martha also loved visual art and was especially proud of her two artist children. She served on the Boards of both the Weisman Art Museum and the Walker Art Center.
Martha's curiosity and desire to learn never flagged. She studied and loved history, often remarking on the contemporary repercussions of ignoring lessons from the past. Martha was also an expert in non-profit governance, and her wisdom and level-thinking made her a highly-respected and sought-after Board member for a number of major Twin Cities organizations, including the Minnesota Historical Society, Carleton College, the Minnesota Opera, Saint Paul Academy and Summit School, the Science Museum of Minnesota, TPT, and Planned Parenthood. In addition to serving on the Executive Committee for the Historical Society, she was actively involved in reviewing proposals from sites across the state seeking historic designation, a process she loved. Preservation, honoring the past, and giving back were some of her most cherished values.
As a graduate of Carleton College, an active alumna, parent, and Trustee, Martha was involved in planning, recruiting, celebrating, fundraising, and in virtually everything that happened at Carleton since she first stepped foot on campus her freshman year. She met her husband of 50 years Arthur W. Kaemmer at Carleton, and they were married in 1967. Although she graduated with a degree in History, Martha briefly worked as a 'Kelly Girl' to help support the future pediatrician to complete medical school. She always joked that she made a terrible secretary, especially since she hated typing.
When he learned of Martha's death, current Carleton President Steve Poskanzer wrote, "She was perhaps the wisest College trustee I have ever worked with and learned from and, quite simply, one of the finest people I have ever known." Former Carleton President Stephen Lewis also shared that Martha "was truly among the most humble, gracious, generous, and most beautiful souls in this world."
Great granddaughter of Hans Jacob Andersen, founder of the Andersen Window Corporation, Martha is survived by her husband Art; her sister Mary Hulings Rice of Bayfield, WI; her children Fred C. Kaemmer (Kate Tilney) and Julia L. Kaemmer (Olivier Vrambout); grandchildren Gracie and Lela Tilney-Kaemmer, and Luca and Zora Hynnek; and her favorite aunt, Alice Hulings of Centennial, CO.